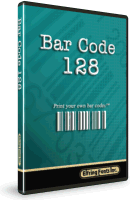 Bar Code 128 utility
View the manual

Print a copy of this page

Questions?

View the EULA

How to Uninstall
$139.50
Windows 11 - 7, Server 2022/19/16, 32 or 64 bit,
laser or inkjet printer
Download now

2.5 Mbytes, V8.5
Download, multiple users
plus embeddable option


Print an order form

Terms & Conditions

Elfring Fonts, Inc.
4N899 W Mary Dr
St Charles, IL 60175

Phone Orders:
1-630-440-2456


Questions?
Bar Code 128 Generator and Font Set
UCC EAN 128, SCC-14, and SSCC-18
Here's an easy way to print Code 128 bar codes from within any Windows program. You can print any subset or variation including UCC/EAN, SCC-14, or SSCC-18. The package even includes Autosense subset switching. Code 128 lets you print any ASCII character and features a high density numeric mode. Print your bar codes on shipping packaging, stock cards, invoices, print whole sheets of labels, or export your bar code as an image file in gif, jpg, bmp, or png formats. This Code 128 package includes TrueType and PostScript versions of each bar code font. Our bar code 128 samples page displays samples of each type of bar code.
Bar Code Generation. Just enter your bar code 128 data and click Make to build a bar code. Print as many bar codes as you like, on sheets of labels, inside your packaging artwork, or even export the bar codes as an image file and send it to someone else to print. You control both the height and width of the bar codes you want to print.
Printing Sheets of Labels. Printing entire sheets of bar code 128 labels has never been easier. Just type in your data and create a bar code with a single click. Use the Labels button to select the size of the label you want to print your bar code on. Any Avery™ or compatible label sheet will work. A label template will appear in your Word processor, where you can position the bar code, add text or even graphics to the label.
Creating Bar Code Images. If you want to send your bar code to someone else to print, you can export your bar code as an image file in bmp, gif, jpg, or png formats. You have a choice of four different print resolutions: 300, 600, 900, and 1200 dpi.
Making Lots of Bar Codes. Sometimes you need to generate large numbers of different bar codes. This package also includes Visual Basic macros that run inside Excel, Access, and Word to build bar codes for you. Add our macros to your Excel spreadsheet and you can make a new cell with a formula that builds Code 128 directly from data in any other cell. This is an easy way to generate 1,000's of bar codes all at once.
128 Data Type: Alpha-Numeric+ (subsets A & B), Numeric (subset C)
128 Checksum: Required, mod 103 plus optional mod 10 for shipping codes
128 Bar Code Length: Variable, typically 4 inches or less in length
128 Image Formats: 300, 600, 900, & 1200 dpi in bmp, gif, jpg, and png
Offers: six height/width variations of each 128 bar code font
128 Font Types: TrueType (in OpenType format) and PC PostScript
Fonts Require: Laser or inkjet printer with a resolution of at least 300 dpi resolution
128 Shipping Codes: SCC-14 and SSCC-18 shipping container codes
128 Subsets: A, B, C, plus UCC/EAN variations in both standard and human readable versions
Compatible Products: Word, Access, Excel, PageMaker, Illustrator, Quark Express, Corel Draw, FoxPro, plus hundreds more.


Embedding: These fonts will not embed in pdf files. An embeddable add on font set is available, but requires an embedding license.