UPC Codes
Every retail product sold in North America (United States & Canada) needs a UPC (Universal Product Code) product code assigned to it. GS1 manages all of these code assignments, but is expensive and charges a yearly fee. Elfring Fonts, Inc. offers official legal UPC codes at a much lower cost and there is no yearly fee associated with these codes.
What Do You Use Your Bar Code On?
This standard UPC bar code is used on all retail products except books, (which use ISBN or Bookland bar codes), and pharmaceuticals. UPC codes from Elfring Fonts, Inc. are used on products in stores all over the world including: Nike, Miller Brewing, Labat's Brewing, Office Depot, Sears, Target, and Walgreen's.
How Many Codes Do I Need?
Each unique product needs its own specific UPC code. For example, if you sell both medium and spicy bottled sauces in 3 different sizes you need 6 unique UPC codes.
Certificate
Every UPC Code assignment purchased from Elfring Fonts, Inc. comes with a pdf certificate of authenticity. It guarantees your UPC code is unique and has been assigned only to you!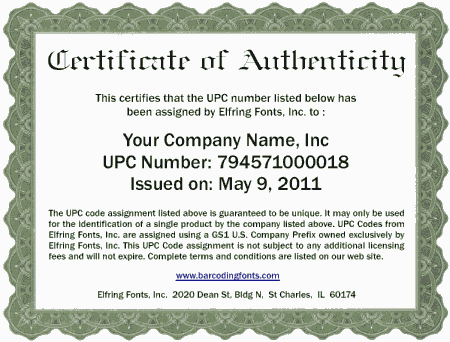 Pricing
We bring the cost of obtaining UPC codes down to an affordable level. If you order UPC codes along with our bar code software, single bar codes are available for $50.00 and the price drops to as low as $20 each in quantities of 10 or more.
One Time Fee
When you purchase a UPC code from us there are no other fees. There is no membership, no renewal, no annual fees, and no setup charges. Your single fee purchases your UPC code forever.
Unique Code
Your UPC code is unique and has never been used before. It comes from the only valid source, GS1 (formerly known as the Uniform Code Council). Your number assignment is guaranteed to be unique and authentic. This code will never expire.
Who Are We?
Elfring Fonts has been in the bar code business since 1979! We sell bar code printing software, bar code scanners, and UPC code assignments. Our office is open from 9 - 5, Monday - Friday. We are located in St Charles, Illinois, about 50 miles west of Chicago.
Registration & Set Up Fees
Elfring Fonts, Inc. charges no set up or registration fees. The price shown on our purchase page is the price you pay. There are no hidden costs.
Are There Stores That Will Not Accept These UPC Codes?
Yes. A few large retail stores will only accept UPC Codes directly assigned to your firm by GS1. These retailers will want to see a copy of your GS1 certificate with your company name and prefix on it. These stores include Kroger & WalMart and may include others. It is your responsibility to check with your retailer before purchasing your UPC Codes from us.
Terms and Conditions
Complete terms and conditions for the purchase of UPC Codes from Elfring Fonts, Inc. are listed here. Or buy UPC Codes at My Bar Code Store.